Message from Doctor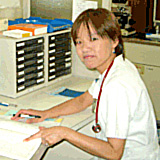 After graduating from University,I became a Pediatrician. I learned pediatric allergy and handicapped children.
I raised four children,two boys and two girls. I was always available to rush to day care center to pick up my children at any time.
My child are now adults, so I have more time to devote for my patients and medical practice.
Raising children is very exciting and rewarding. If you have some question about your children, please contact us.
Director Dr.Fusae Yamazaki
Licences
Japan Pediatric Society Specialist
Japan Medical Association certified Physician
Japan Allergy Society Specialist
Learned society
Japan Allergy Society
Japan Pediatric Allergy Society
The Japanese Society of Pediatric Psychiatry and Neurology
The Japanese Society of Child Neurology
Japan Pediatric Society
Biography
March. 1981 Graduated Toho University Medical School
May. 1981 Yokohama City University Pediatrics Resident
May. 1983 Kanagawa Children's Medical Center Allergy Department Senior resident
April. 1984 Segawa Neurological Clinic for Children Clinical Fellow
June. 1984 Saiseikai Yokohamashi Nanbu Hospital Pediatrics Clinical Fellow
Oct. 1985 Yokohama City University Pediatrics Clinical Fellow
Aug. 1988 Mount Sinai Medical Center Volunteer
June. 1989 Yokohama City University Pediatrics Clinical Fellow
June. 1991 Yokohama Pediatric Allergy Center
June. 1996 Yokohama City Chubu Region Rehabilitation Center Director
April. 2002 Yokohama Pediatric Allergy Center Medical director
Sep. 2004 Uchida Iin Pediatrics Allergy
Oct. 2005 Y Child Clinic Director
Sep. 2010 Uchida Iin Y Child Clinic Director


Lapis2 Bldg 1F 8 Totsukacho Totsukaku
Yokohama city Kanagawa 244-0003

Near Tokaido-Line Totsuka Sta


Department
We treat The Pediatrics, Allergy:
General pediatrics, Child development, Attention-Deficit Hyperactivity Disorder (ADHD), Pervasive developmental disorder, Bronchial Asthma, Atopic Dermatitis, food allergy. Please contact our office for other symptoms.
For first visit patients
What to bring

Health insurance card and Identification of various recipients
Medicine notebook (If you do not have one, please bring all the medication your child currently take)
mobile